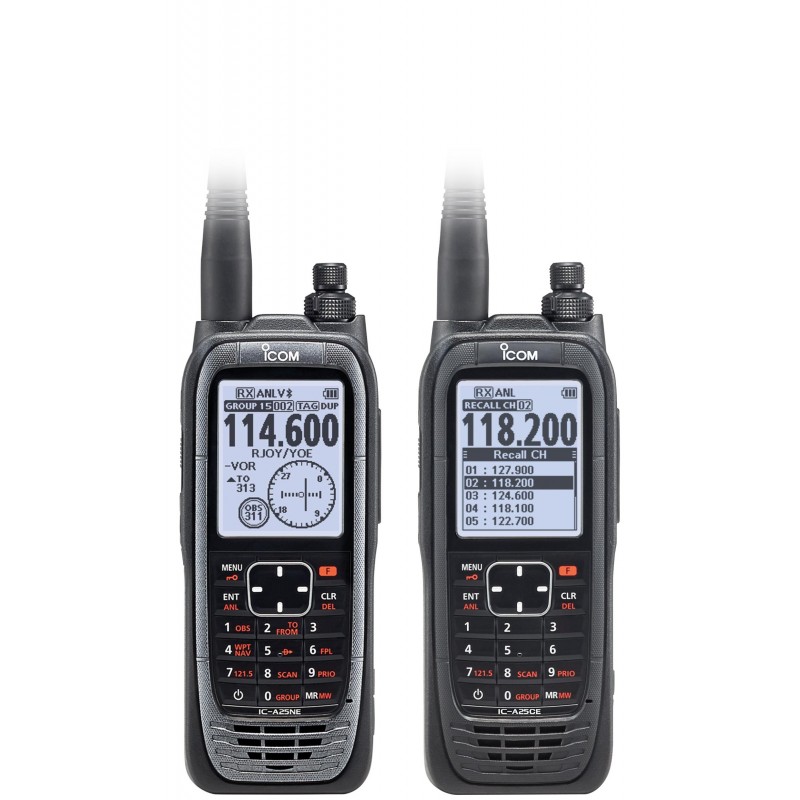 
IC-A25NEFR-13
Tax included
Lead time 10 and 15 days (For parts available from Supplier)
Portable aviation VHF 108-136MHz, 3.6W PEP, graphic display, keyboard, 200 channels, 8.33kHz spacing, IP57 waterproofing.
With VOR, Bluetooth and navigation functions with integrated GPS.
Meets MIL-STD810G VHF E/R Certified as LSA Onboard Primary Radio - DSAC/NO 20-013 Approval
Briefing Notes:
IC-A25 FR SERIES
Certified for on-board use in microlights, aircraft in CNSK, CNRA and CNRAC, in French airspace.
Can also be used on board hot air, gas and mixed balloons, hot air airships, in strict compliance with the field
application (EU) 2018/395 (in French airspace only, in class E, F and G airspace excluding RMZ (Radio Mandatory Zone)
and in a ZRT if this use is planned when the space is created).
The + Product
High visibility display and "Day/Night" mode
8.33/25 kHz channel spacing compliant with new regulations
"Side Tone" function for signal feedback
VOX function: automatic voice triggering
"Flip-Flop" function: automatic memorization of channels
ANL (Automatic noise limiter): automatic reduction of ambient noise (motor, etc.)
IP57 sealing (dust and water)
Built-in Bluetooth for use with wireless accessories (IC-A25NEFR only)
Simplified navigation by GPS positioning and use of "waypoint" (only on the IC-A25NEFR)
Advanced VOR navigation functions (OBS, CDI, etc.) (only on IC-A25NEFR)
Search for nearby VOR stations with the "Near station" function (only on the IC-A25NEFR)
Supplied with double jack adapter for aero headphones (only on the IC-A25NEFR)
SAR Max. : 0.57W/kg
No customer reviews for the moment.
4 other products in the same category: